Manchester's Dot-To-Dot festival is a great, and more grown-up, alternative to spending 3 days up to your neck in mud at a music festival. This Bank Holiday weekend, a fantastic line-up of cool bands will be playing at a number of venues across the cities of Manchester, Bristol, and Nottingham.
From Blood Red Wheels and Wild Beast at the Academy 2, Washed Out and Beach House at Club Academy, Fraser King and Daisy Dares You at Council Chambers, to Lunar Youth and Peggy Sue at the Deaf Institute. This is only a fraction of the bands playing in Manchester on Monday 31st May. There are far, far more on offer.
Make A Night Of It
Why not gather group of your mates together and make a night of it? Hire a minibus and spend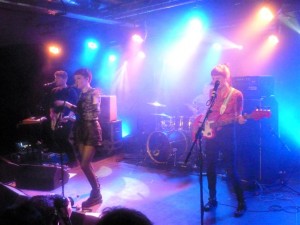 the evening having a few beers and listening to some fantastic music—a far better way to spend a miserable Bank Holiday weekend than sitting in front of the TV! With such a great array of talent, it should be a fantastic opportunity to hear some of the best music in the UK right now.
For the latest information and ticket prices, plus the full line-up, please visit the event website.